Description
Clock Card Machine (Analogue Display)
Our C-860 range of analogue clock card machines are designed and manufactured to a high standard, ensuring easy operation and accurate time and attendance data capture. These robust and reliable clocking machines are suitable for the manual clock card recording of employee's attendance time. The C-860 range features an automatic shift pattern setting and the ability to highlight late starts and early finishes in red ink for greater clarity and time control.
Package Details
Analogue Clocking In Machine
50 Weekly or 25 Monthly Clocking Cards Included
10 or 25 Slot Clock Card Rack (optional)
Ink Ribbon
User Manual
12 Months Support
Free next day delivery for customers in the UK Mainland (click here for details).
If you're outside the UK Mainland additional shipping charges may apply. Please click here for more information.
Analogue Clock Card Machine Details
Display
The C-860 comes equipped with a clear, easily readable analogue display.
Installation
All C-860 clocking machines work straight out of the box, with no configuration required. The unit is tamper proof and can be wall or desk mounted. Robust housing and a lockable lid ensure only authorised personnel can alter settings.
Operation
Staff clock in and out using monthly and/or weekly clock cards. The card feed is fully automated, ensuring accuracy and ease of use, while each staff member can make up to six attendance clockings per day. Operation is quick, simple, and quiet.
Print Sample
The C860 Analogue Clock Card Machine registers up to 6 attendance clockings per day. Shift times are easily customised, with late starts and early finishes highlighted in red.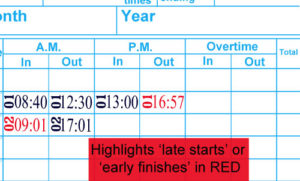 ---
Any Questions?
Give us a call us on (+44) 01246 267715 or get in touch via our contact page for a friendly chat about your Time & Attendance requirements. If you are ready to order simply click on the ADD TO BASKET button at the top of the page.