Our ClockRite Software provides an intuitive and versatile time and attendance solution, making payroll preparation quick and easy. Install to multiple PCs as needed and create tiered user profiles to ensure your administrators can only access information relevant to their role.
---
Employee Time Cards
View an at-a-glance timesheet summary of clockings, hours worked, and relevant exceptions for all employees. Missing or erroneious clockings are easy to identify and amend, while total hours are intuitively broken down by pay rate. Fully customisable grace and rounding settings are included.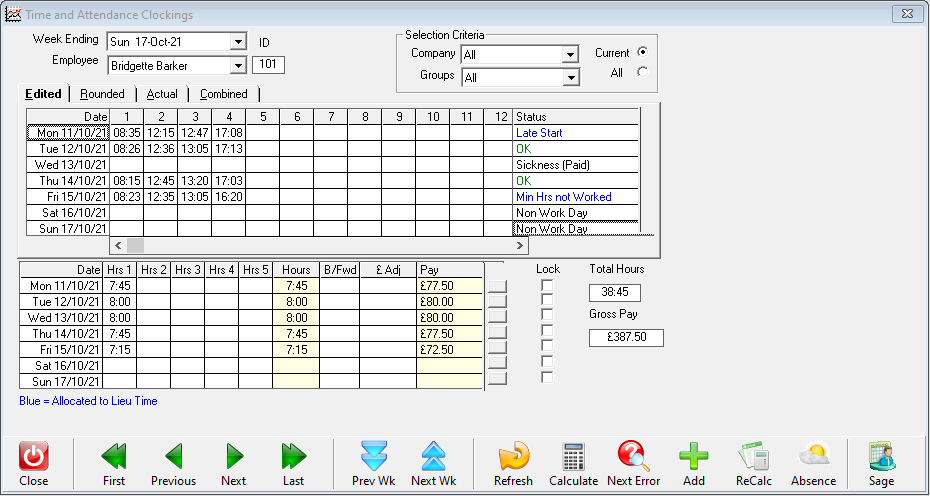 ---
Multiple Shifts and Overtime
ClockRite supports unlimited shift patterns, including night shifts, and allows for multiple shifts per employee or staff group. Define up to 5 rates of overtime to be applied daily or weekly as needed.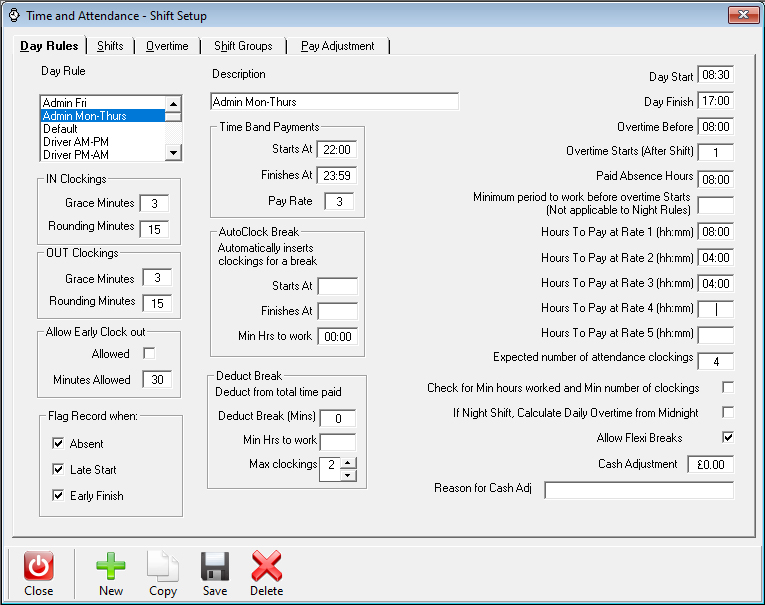 ---
Holidays and Absence
Define custom absence codes and track leave entitlement with our comprehensive absence module. Choose from paid or unpaid leave and view all absences in convenient calendar format. All paid leave can be included in employee's total hours so payroll data remains accurate.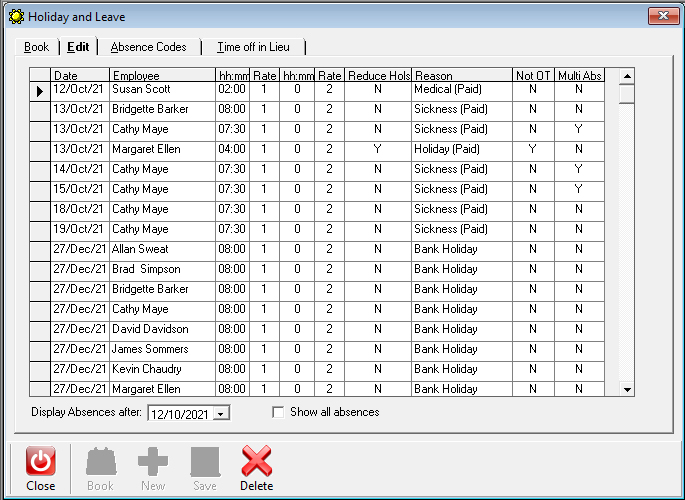 ---
Detailed Reports
Generate detailed, readable reports on every aspect of your employees' time and attendance. Integrate data directly into Sage Line 50 or export to Microsoft Excel for simple transfer into other payroll systems.
---
Software Feature Set
| | |
| --- | --- |
| Unlimited Shifts | ✔ |
| Flags for Late Starts, Early Finishes, and Absence | ✔ |
| Staff Departments & Groups | ✔ |
| 24 Hour Shift Patterns | ✔ |
| 4 Pay Rate Multipliers | ✔ |
| Weekly & Daily Overtime Calculations | ✔ |
| Timeband Payments | ✔ |
| Additional Payments | ✔ |
| Absence & Leave Calendar | ✔ |
| Gross Pay Calculations | ✔ |
| Full Reporting Suite | ✔ |
---
System Requirements
| | |
| --- | --- |
| Operating System | Windows XP/Vista/7/8/10/11 |
| CPU | 1Ghz (or equivalent) processor |
| RAM | 500MB |
| Storage | 400MB free disk space |
**We cannot guarantee complete compatibility between ClockRite and any versions of Windows no longer supported by Microsoft**
***Not compatible with Windows 11 ARM Edition***